In this post we're going to introduce you to how to use Du Chinese and get the most out of it. Learning Chinese is one of the best investments you can make with your time! It opens up a new world of over 1 billion people you can communicate with, beautiful places to explore, a rich culture to enjoy, business opportunities, and personal relationships.
With Du Chinese you can immerse yourself in the language through reading. You also have easy access to the best tools to help your learning.
Learn how to navigate our app to find lessons that interest you.
Du Chinese has thousands of lessons with new lessons added each week! You have plenty of lessons available to you on our Discover tab ①.
Once you've made it to our Discover tab, use our filter ② option to select the lesson relevant to you from Newbie all the way to Master.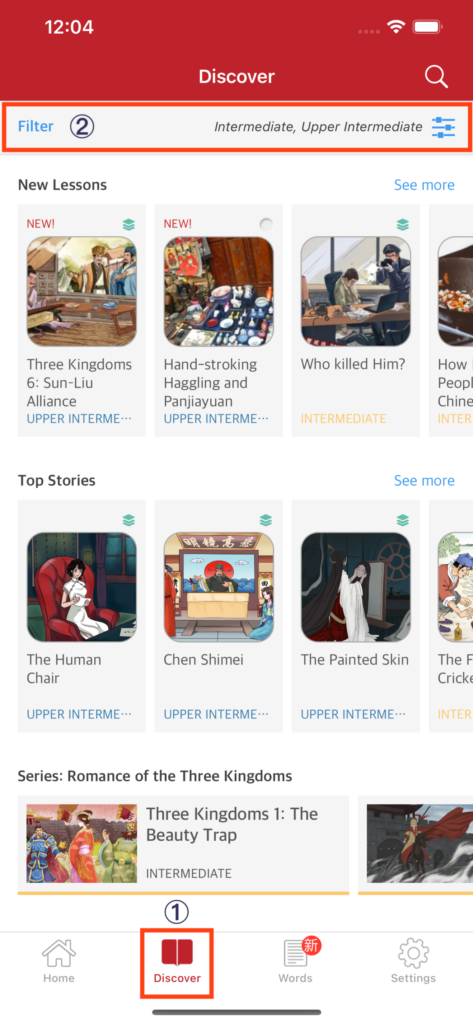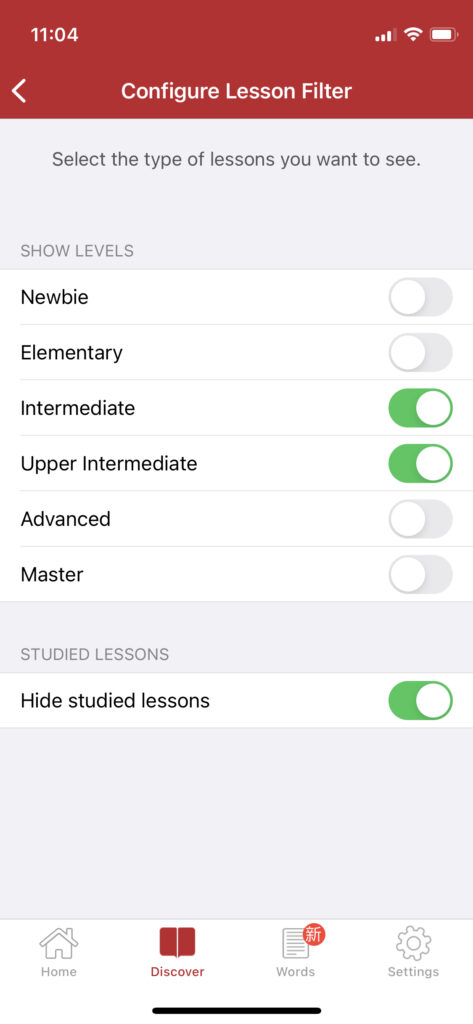 You'll find many types of lesson categories, like "New Lessons," "Top Stories," "History," "Business in China," Everyday Life," "Language," and more! Choose a category and scroll through your options or click see more to look through the catalog. Look through stand-alone articles, courses (articles connected within a single theme), and multi-chapter stories, which all add up to thousands of lessons within Du Chinese.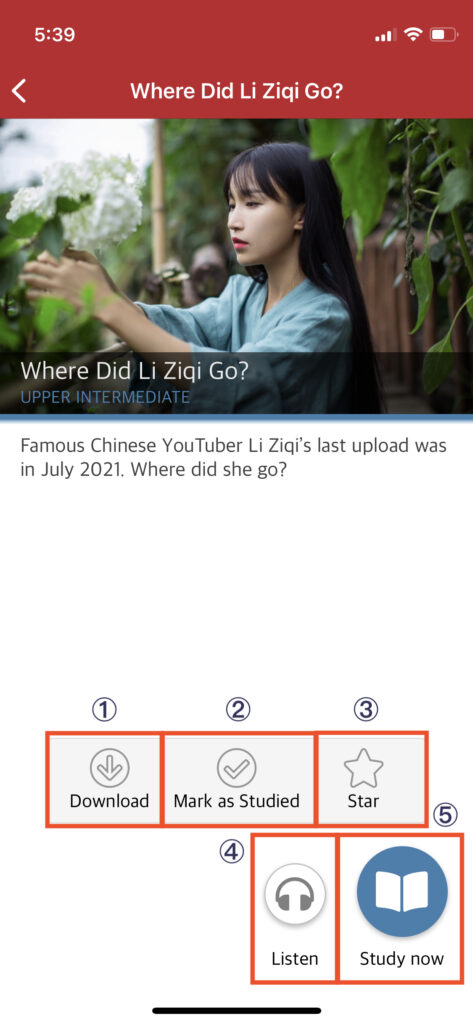 Learn how to customize your reading preferences. 
After you select a lesson, you'll be taken to the lesson overview page that has a short description of the lesson you are about to read. On this page, you'll see the following: 
① Download lesson for offline study (premium subscribers) 
②  Mark it as Studied 
➂ Star the lesson to make it easier to find later 
④ Listen to a lesson to improve your listening skills (premium subscribers)
⑤ Study Now button for articles or a Study button for each chapter in a story. Click through and you'll be taken to the reading screen and you are ready to start reading Chinese. 
Once you click "Study" or "Study now," you're in the lesson there are all sorts of things you can do!
① From the reading screen, you'll find the translation box at the very top of the page. This translation box can be tapped to toggle showing and hiding the sentence translations. 
② Shows the number of pages. Swipe left or right to flip through the pages of the lesson.
➂ Tap here to adjust the reading speed of the audio playback (from x.5 – x1.5 speeds). 
④  Tap the Play button to listen to the lesson read by a native speaker. This karaoke-style reading allows you to easily follow the audio while reading along. Tap on any word on the screen to start the audio from that point. Press the "pause" button whenever you need to pause the audio.
⑤ Tap 拼 "Pin"  to turn pinyin/tone marks on and off.
⑥ Within the ☰ icon, you can find the following reading preferences: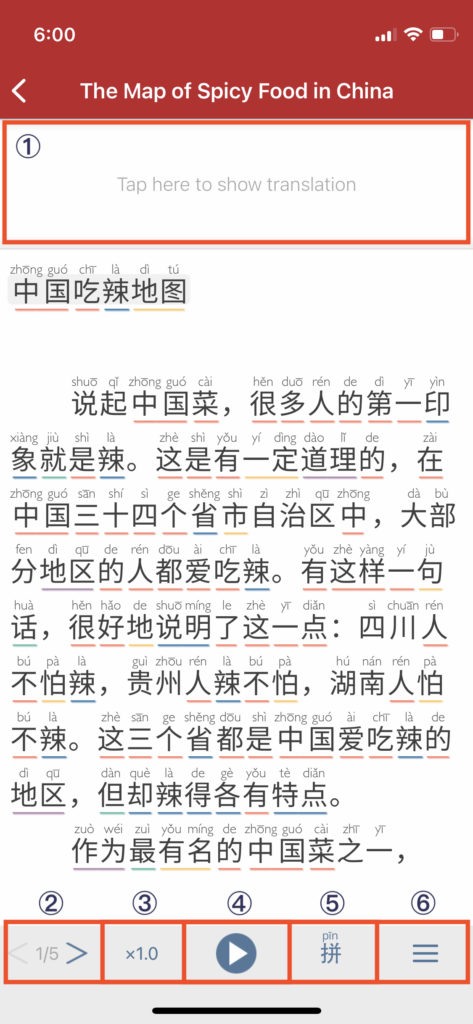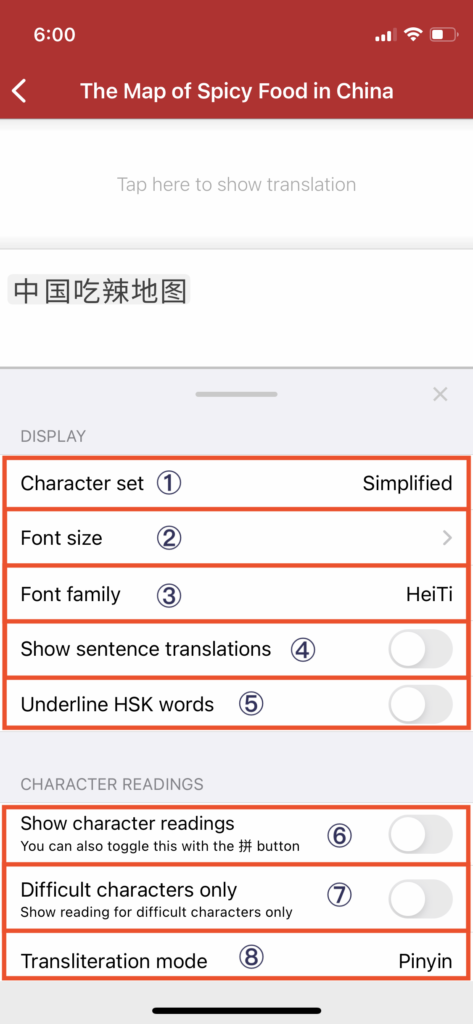 ① Choose between Simplified and Traditional characters
② Font size
③ Font family (System, HeiTi, SongTi, KaiTi)
④ Always show sentence translations
⑤ Underline HSK words
⑥ Show character readings (拼 toggle setting)
⑦ Only show character readings for difficult characters. Pinyin will be hidden for all words below the level of the lesson you are reading (Newbie-Master)
⑧ Transliteration mode (pinyin/tone marks/bopomofo
After you select a story to read, you have two ways to listen to a story.
1. From the reading screen, tap the Play button to listen to any lesson. As you listen to the audio, you can reference the words on the screen.
2. From the lesson overview page, you'll find the Listen icon, which lets you play the lesson audio in the background while you're doing other activities.
The "Listen" feature will play through all the lessons from the section that you came from (starred, studied, multi-chapter stories), so that you can listen through multiple lessons without interruption. Click "Previous," or "Next" to navigate through the lessons or chapters.From the lesson overview page, you'll find the Listen icon, which lets you play the lesson audio in the background while you're doing other activities.
1. From the Reading Screen
2. Listen Feature from Lesson Overview
Saving Words and Reviewing Flashcards
With extensive reading you can learn Chinese in a natural and enjoyable way. As you are reading, if you'd like to save a word to your word bank, just place your finger on the word, drag up and release on "save". The word will be saved to your word list and the flashcard system.
Studying Chinese is a bit like working out: A little bit every day will be much more effective than trying to do too much all at once. 10 minutes every day is better than 2 hours once a week. 
Rather than reading, sometimes you just want to review and memorize words. You can find your flashcards by hitting the "Words" tab at the bottom of the screen when you're on the home page.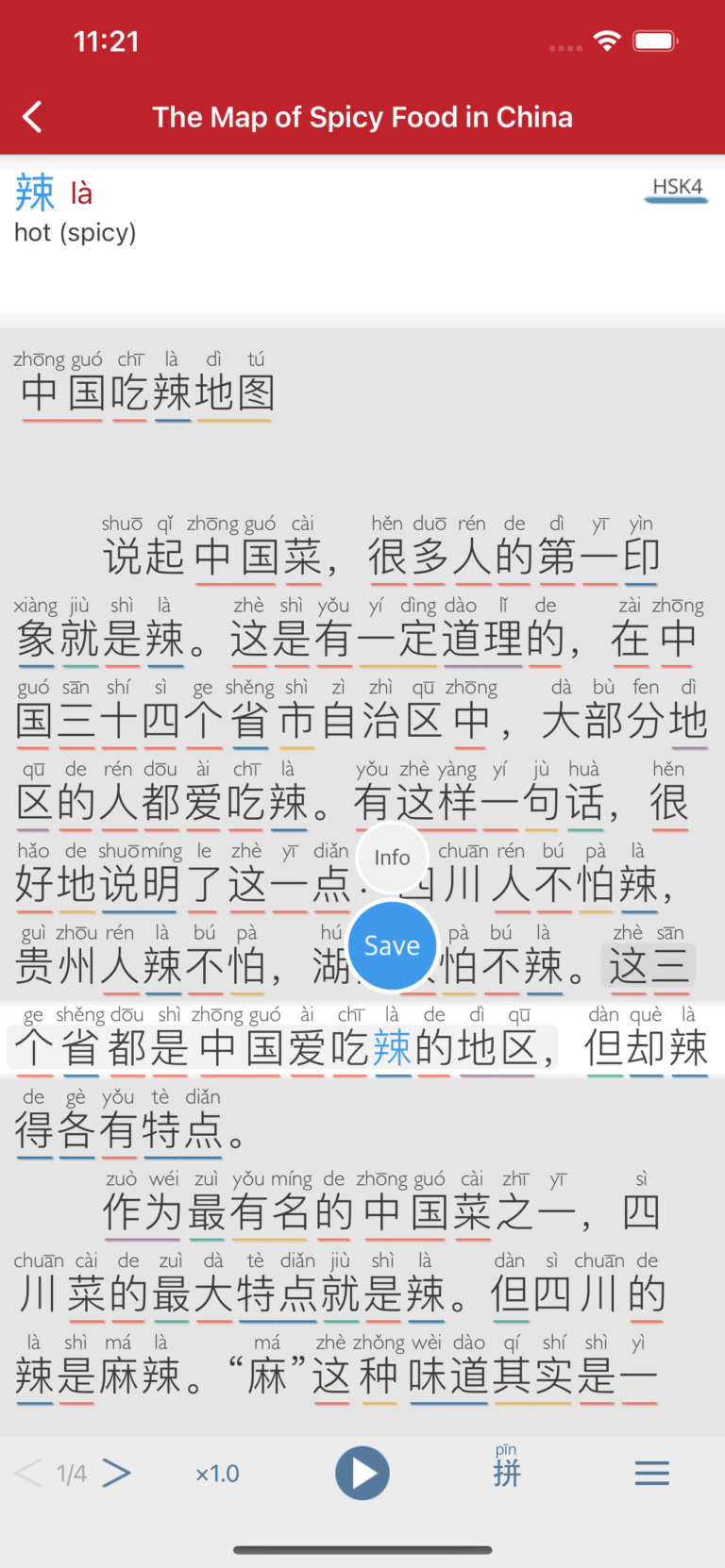 Du Chinese uses a Spaced Repetition Flashcard System (SRS) to make studying unfamiliar words more efficient. The system keeps track of how well you remember each word. Regularly forgotten words will be shown more frequently, while learned words are shown less frequently.
Click "Study" to start your word review for the day. Our system will present you with words that are due for review, and all you need to do is to mark how well you remember each word.
Swipe Left or tap "Forgot" if you've forgotten the word
Swipe Right or tap "Got it" if you remember the word.
Tap "Almost" if you recall only partial knowledge for certain words, such as knowing the meaning but forgetting the pinyin or vice versa.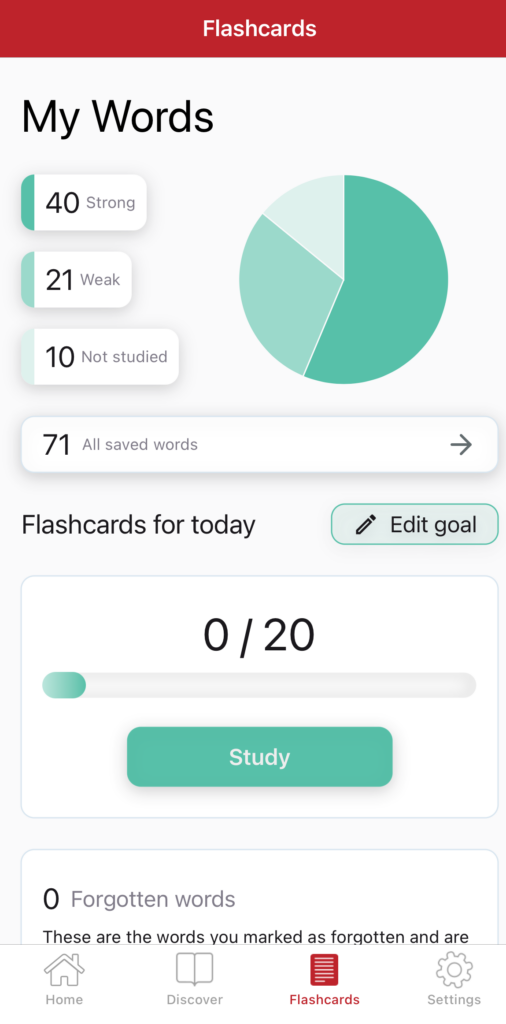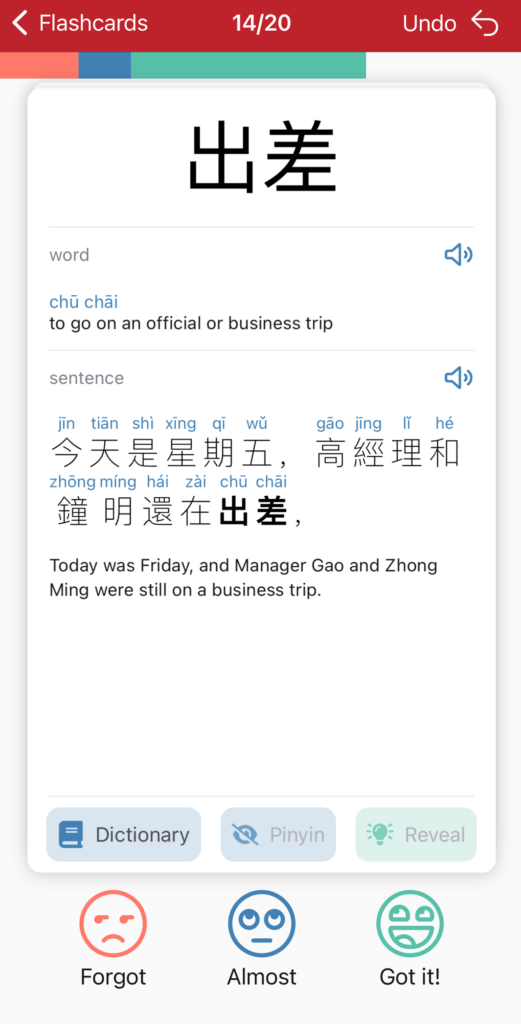 Within the test, you can review the words and test your own knowledge. On the flashcard, you can tap to show the pinyin, see the sentence from which you encountered the word, tap to and reveal the translations, and tap to look at the dictionary definition if you've forgotten. 
Final Note
If you've made it this far, you're clearly a dedicated learner. We've created Du Chinese so that you can learn relevant Chinese that people actually use. Start reading Chinese now!
Our goal is to help as many people as possible learn to read Chinese and it also takes a whole team of people to create content and develop the app. If you find Du Chinese useful, please consider subscribing. Reading with Du Chinese for even just a few minutes each day we're confident that you'll quickly see your Chinese improve. 加油!